Problem in: VirtualBox Ubuntu

Description: VirtualBox copy paste not working Ubuntu 20.04
Step #1: Make sure VirtualBox Guest Addition is installed
You have to install VirtualBox Guest Addition in the Ubuntu Guest OS to enable the copy-paste. If you are looking for the guide to install VirtualBox Guest Addition installation, Please refer to this guide: https://codetryout.com/ubuntu-virtualbox-guest-addition/
Step #2: Enabling Copy and Paste.
From VirtualBox, management window, follow these steps to enable Copy and Paste
Open VirtualBox manager window in Windows 10.
Right-click on the Ubuntu VM where you want to enable copy and paste, then click on Settings.
From the Settings window, go to the Advanced TAB on the right side. (shown in the picture below)
Advanced settings -> Shared Clipboard, select Bidirectional.
If you prefer to enable copy-paste in one direction, please choose that.
After selection, click on the OK button to save your preferences.
Please refer to the below image for reference.
Sometimes, depending on the VirtualBox software versions, you may need to restart the guest OS(in our case, the Ubuntu VM) to make this change in effect.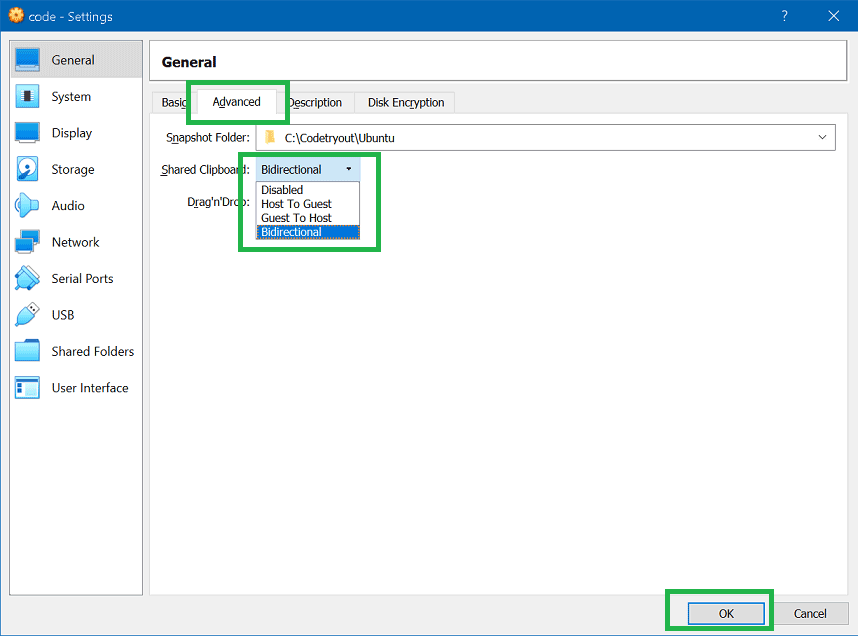 FAQ: This solution solves the below queries.
VirtualBox copy paste not working ubuntu 20.04.
Bidirectional copy/paste VirtualBox not working Ubuntu.
Enable bi-directional copy paste between VirtualBox Ubuntu VM and Windows host.
This is tried and tested in Ubuntu 20.04, VirtualBox 6.01